Cine+Mas SF Latino Film Festival / Marin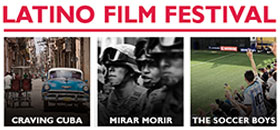 The Community Media Center of Marin in collaboration with ForWords, The Task Force on the Americas, Canal Alliance, and Canal Welcome Center, will host screenings of select documentary films from the Cine+Mas SF Latino Film Festival at the Albert J. Boro Community Center on October 3, 4 and 6 at 7PM.
Sitting will be limited, make sure to reserve your tickets at https://latinofilmfestival.splashthat.com/
CRAVING CUBA
Monday, October 3 | 7pm
A documentary film that will share a powerful story about the American Dream and yearning – for freedom, for the country, and for identity across 4 generations on both sides of The Florida Straits. Follow Zuzy's quest to better understand her family, herself and the enigma of Cuba as she tries to convince her feisty 83-year-old Abuela to travel back to Cuba with her.
MIRAR MORIR
Tuesday, October 4 | 7pm
The 27th Infantry Batallion and other federal forces surveilled every movement of the Ayotzinapa students in Iguala. They calmly watched them die. The tragic night of Iguala was the consequence of a general state of violence and impunity, reaching Mexico's highest levels of government, and in which the Republic's General Attorney's office is not looking for justice, but in fact misleading the public.
THE SOCCER BOYS
Thursday, October 6 | 7pm
A sports documentary film about the talent scouts for the world famous soccer team, Club Atlético Boca Juniors. Discover what the talent scouts look for in a young soccer player, and follow them through clubs and soccer fields all over Argentina. Take an inside look at the dreams of over 40,000 young players that aspire to become the next soccer superstar.