CodeFest - Code for Marin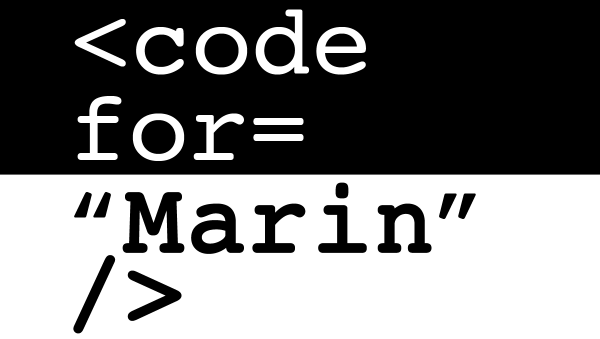 Join us for a brand new CodeFest series!
UPCOMING:
Thursday, February 5th 6-8pm
San Rafael Public Library - RSVP
COMPLETED:
Thursday, January 8th 6-8pm
San Rafael Public Library - RSVP
Thursday, January 22 6-8pm
Community Media Center of Marin - RSVP
A CodeFest is a meeting of community members and coders to develop open data solutions that will improve civic engagement and increase awareness of local resources. Our event organizers will make a brief introduction and facilitate the discussion each night, then break into project-based teams and fact-gathering groups. The goal of the evening is to create a productive and playful atmosphere to brainstorm ideas, contribute to existing projects, and break ground on new solutions.
Everyone and every brand of laptop is welcome!
Open Data is a form of information that lends itself to free innovation and development of tools-- tools that can be used for improving communities, awareness about local resources, and the way we engage with government.
Code for Marin is a coalition of open data advocates who would like to see more of these tools developed and available here in Marin County.
With an area so rich in natural, cultural, and civic resources, our citizens deserve to have a more agile and accessible engagement with public information. This is information that has already been published in traditional formats, but is not always readily available for online and mobile app development. From parking availability to nearby health services, from hiking trail information to planning and zoning updates, these types of tools can revolutionize the way we appreciate our neighborhoods and stay informed.