Fidel is Fidel - Photography & Film Documentary Exhibit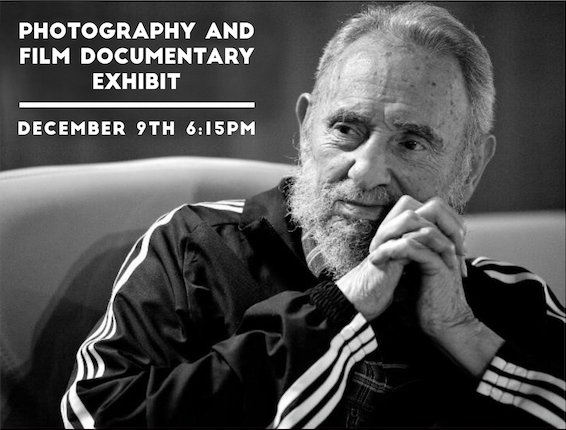 Commemorating Fidel Castro's 90th birthday, renowned photographer and filmmaker Roberto Chile has created a traveling photo exhibition and a documentary film about the public and private persona of the Cuban hero during these later years.
PHOTOGRAPHY EXHIBIT • December 1st through the 31st.
DOCUMENTARY SCREENING: All Guantanamo is Ours • December 1st, 7pm
ARTWALK RECEPTION • December 9th, 5-8 PM with "Fidel is Fidel" film at 6:15 pm.
Two issues stand in the way of a fundamental improvement in U.S.- Cuban relations: "...the blockade has to be lifted and the territory occupied by the Naval base in Guantánamo has to be returned."
Guest Speakers: Jane Franklin, author, Cuba and the U.S. Empire: A Chronological History (2016); and Alicia Jrapko and Bill Hackwell of the International Committee for Peace, Justice, and Dignity