Red Flag Warning in Effect | June 22 - June 24 |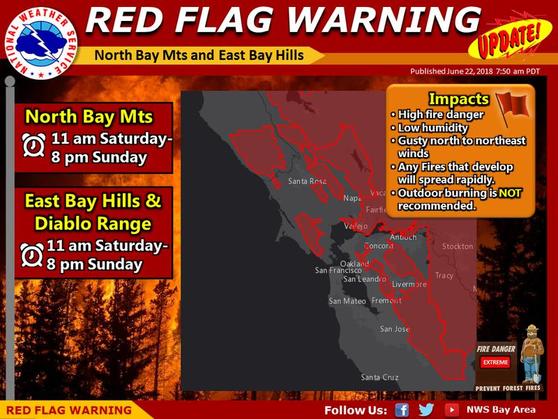 Red Flag Warning
A Red Flag Warning has been issued for the Mt. Tam Watershed. A Red Flag Warning means warm temperatures, very low humidity, and strong winds are expected to combine to produce an increased risk of fire danger.
As a result of the Red Flag Warning, all watershed land use permits have been suspended. No fires or BBQs will be permitted. MMWD's Mt. Tamalpais watershed lands are closed to public motor vehicle traffic both Saturday 6/23 and Sunday 6/24 at the following sites:
• Sky Oaks Road beyond the Sky Oaks Ranger Station
• Natalie Coffin Greene Park
• Leo Cronin parking lot gate
For additional information and updates, call MMWD's fire and road closure message line at 415-945-1195.
June 22nd and 23rd are also Spare the Air Days. Bay Area Residents are urged to cut back on any activities that cause pollution - such as driving, using oil-based paints, gasoline-powered lawn mowers, or household aerosol products like hair sprays. People who are sensitive to unhealthy air are advised to limit their time outdoors, particularly in the afternoon hours.